Radio
Overview
The radio facet type generates a single-select list of choices.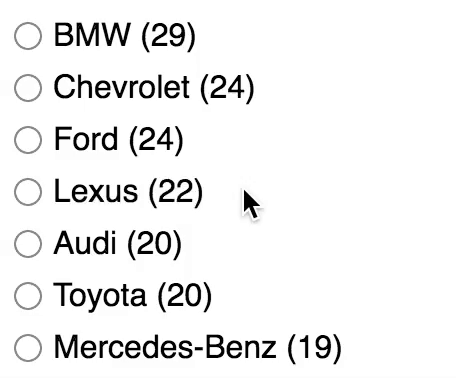 Available options
| Name | Description |
| --- | --- |
| Data source | Where the values live (taxonomy, custom field, post attribute) |
| Default label | Set a label to include an "Any" choice above other radio buttons, or leave blank. |
| Parent term | If Data Source is a hierarchical taxonomy and you want to display only child terms, enter the parent term's ID. |
| Value modifiers | Enter a list of values (one per line) to include or exclude from the facet's choices |
| Show ghosts | Ghosts are facet choices that, if clicked, would return zero results |
| Preserve ghost order | Should ghosts be kept in the same order (mixed with valid choices)? |
| Sort by | Sort facet choices by Facet Count, Display Value, Raw Value, or Term Order |
| Count | The number of options to display |
What are ghosts?
Ghosts are facet choices that do appear in the unfiltered results — but disappear after being filtered out. If a facet choice has no associated content, then it will never appear.