add-on facet type
Color
Filter results by color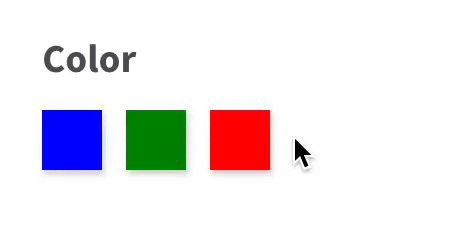 The Color facet type allows users to filter posts or products by color.
The facet creates clickable rectangular color swatches from the color values in the Data source field.
Depending on the Behavior setting, selecting multiple color swatches narrows or widens the displayed result set. A second click on a selected color swatch resets that choice.
Available options
Name
Description
Data source
Choose a Data source that contains a valid color value. This can be a custom field, a category or custom taxonomy, or – if you are using WooCommerce – a product attribute. For using taxonomies and product attributes, see below.

Valid color values are:

An existing color keyword (for example: blue). Note: valid color keywords never contain spaces.
A hexadecimal (hex) color value, normally consisting of a hash-sign with 6 digits (#0099FF). Also valid are 3-digit shorthand values (#09F) and 8-digit hex values, where the last 2 digits contain an alpha value for the transparency (for example: #0099FF50, which is a 50% transparent #0099FF). If you are using hex color values, make sure they always start with #
An rgb value (rgb(0,153,255)) or rgba value (for example: rgba(0,153,255,0.5), where 0.5 means 50% transparent)

Behavior
Narrow the result set – when selecting multiple colors, only display results matching all selected colors:

Widen the result set – when selecting multiple colors, display all results matching any selected colors:

Count
The maximum number of color choices to show. Setting the Count to -1 will display all choices.
Using a custom taxonomy or WooCommerce product attribute as Data source
In the Color facet's settings, you can choose a taxonomy as the Data source. This can either be a custom taxonomy, or – if you are using WooCommerce – a global product attribute, which is also stored as a custom taxonomy.
When a taxonomy is set as Data source, FacetWP treats color values as follows:
Term names are used to generate the display of the facet's color swatches. This means that the term names must be a valid color value. (Technically, the term names are stored in FacetWP's index table as facet_display_value).
Term slugs are used for filtering, which means they will show up in the url after interacting with the Color facet. (Technically, the term slugs are stored in FacetWP's index table as facet_value).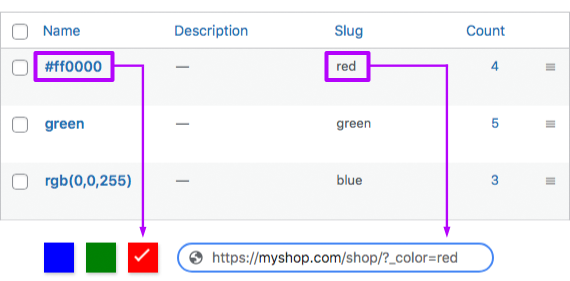 You can use the same color value for the term name and term slug, but keep in mind that WordPress removes spaces, commas and other special characters when it auto-generates the term slug from the term name. For example, if the color value in the term name is set to rgb(255,0,0), the auto-generated term slug will become rgb25500. This will work, but to make the filtered url look more readable, you can manually change the term slug to red, which – for a facet with name "color" – will make the url look like: /?_color=red.
Using a taxonomy term custom field as data source
With Advanced Custom Fields or Pods, you can add custom fields to taxonomy terms. If you set such a custom term field as the data source for the Color facet, you will notice that the facet does not display any choices. This is because custom fields attached to taxonomy terms cannot be indexed directly by FacetWP.
However, with a bit of custom code, using a custom term field as data source is possible. See this section on the Advanced Custom Fields page for instructions.
Integrations
The Color add-on facet type integrates with several WooCommerce 'color swatches' plugins:
Variation Swatches for WooCommerce by Emran Ahmed.
This plugin lets you attach colors or images to your WooCommerce product attributes. When adding a facet, set its Data Source to the product attribute containing your custom color / image swatch.
WooCommerce Attribute Swatches by IconicWP.
This premium plugin works similarly to the one above (same setup instructions).
Changelog
1.5.5
Fixed

fatal error caused by some "Variation Swatches for WooCommerce" 2.0.0 functions being removed
1.5.4
Improved

setting the "Count" to "-1" will display all choices
1.5.3
Improved

removed jQuery dependency
1.5.2
Fixed

removed `touchstart` event handler to prevent duplicate-click issues
1.5.1
1.5
1.4.1
Changed

replaced `wp.hooks` with `FWP.hooks` due to conflict with WP 5.0
See also