Time Since
The Time Since facet is used to filter posts by date / time since a specified interval.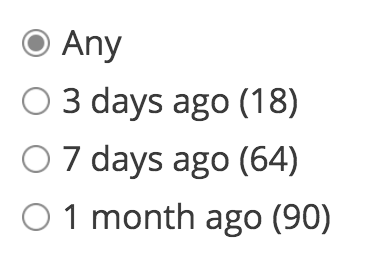 Setup
Data Source: A date; "Post Date", "Post Modified", or a custom field in YYYY-MM-DD format
Choices: the choices to display (one per line). The label and formatter are separated by "|". Example:
Past Day | -1 day
Past 7 Days | -7 days
Past 30 Days | -30 days
Past 90 Days | -90 days
Past Year | -1 year
Next 7 Days | +7 days
Today | today
Tomorrow | tomorrow
Yesterday | yesterday

The formatter is based on PHP's strtotime function (see example).
Changelog
1.6
New

revamped filtering logic to support "today", "tomorrow", and "yesterday"
1.5.1
Changed

replaced wp.hooks to FWP.hooks due to conflict with WP 5.0